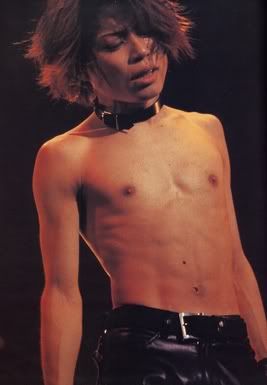 Takanori-san (TMR) is very attractive..in my opinion in everyone's opinion...but...there is a problem. He is considered to some as jpop. Yes it is true...I have become obsessed with a jpop artist. This also brings into the picture W-INDS...they also are not jrock. I can no longer say that I hate jpop...it seems many of my favorite artists these days are no longer jrockers.

For example...Gackt. Yes he was at one point the ULTIMATE visual kei vocalist back in his Mizer days. Then he and Mana thats a rumor right? got into some problems and the Gacktness went solo. That is where his jrock saga ended. His first solo single, Mizerable, was not jpop. He could have continued on that path...however...by the time Vanilla came out, it was too late. He had abandon his jrock roots. HOWEVER!!! He could technically still be considered jrock due to some of the content of his songs and such. But not anymore...I'm afraid his new album is full of tear jerky ballads...X-Japan got away with ballads, but can Gackt do it and still be respected? You have to question your fandom of an artist when you hear a brand new song and think to yourself..."this sounds like his last single." The truth is Gackt's songs are becoming more depressing, and more ballad-ish, and his up tempo-songs are now non-exsistant...As sad as this may seem, I really did intend to write about Taka-chan...but all that just leads down to Gackt...and his failiure to produce upbeat songs. It is like Evanessence trying to sing happy songs...ok...bad analogy...

What I am trying to say is...I want the old Gackt back T_T...this depressed ballad boy isn't cutting it for me...I miss the old Gakuto!!! *sigh*...does anyone else feel this way?